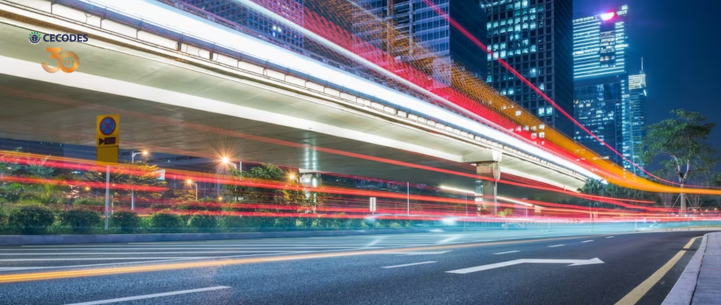 Find out about the projects and initiatives of the World Business Council for Sustainable Development (WBCSD) and how they work hand by in hand with business to achieve the transformations that we need.
According to the World Resource Institute, by 2021 one of the activities that generates the greatest number of emissions is road transport (12.5% ​​of total emissions). According to WBCSD, more than 80% of people living in cities are exposed to air pollution levels that exceed World Health Organization limits. Activities such as transportation and mobility produce hydrofluorocarbons (HFCs), which are potent greenhouse gases (GHGs). For this reason, decarbonizing transport is key to addressing the climate emergency.
CECODES is a Global Network Partner of the World Business Council for Sustainable Development (WBCSD), and has five key pathways to work hand in hand with their companies. One of these paths is Transport and Mobility, which aims to reduce global transport emissions, to reach the 1.5°C goal, accompanying companies to achieve their net zero carbon emissions commitments and accelerate adoption of zero emission vehicles and technologies.
WBCSD's Transport & Mobility Pathway is mainly focused on supporting companies in their transition towards sustainability, the search for new sources of income through circularity and mobility solutions based on data sharing; To achieve this, they bring together companies from the transport value chain and the main organizations in the sector in action-oriented projects and collective advocacy.
WBCSD projects for transport and sustainable mobility
Decarbonization of mobility
The electrification of transportation and the decarbonization of the automotive industry, powered by renewable electricity, are at the center of global GHG emissions reduction efforts. To accelerate this transition, in line with the Paris Agreement, the WBCSD's "Mobility Decarbonization" project brings together the CEOs of transportation, energy and built environment systems, to bridge the gap towards a net-zero transportation scenario by supporting and increasing the deployment of charging infrastructure and zero emission vehicle (ZEV) technologies.
This initiative is accomplished by building global multi-stakeholder coalitions, strengthening public-private dialogues, and evaluating the social and environmental benefits of technology deployment. The project channels ambition and action through regional business platforms, to accelerate and highlight the feasibility of fleet-led large-scale electric vehicle (EV) adoption across geographies.
Change the way we move
Changing commuting behaviors is a key factor for sustainable mobility, which also brings great benefits for the environment and for significantly improving the quality of life for the global workforce. 50% of transport emissions are linked to the movement of people, that is, displacements contribute to air pollution and congestion, and negatively impact the well-being of people, since more than 40% of the labor force world class commute to their workplace as the worst part of their day.
For this reason, the WBCSD created the "Communting Behavior Change" project, an initiative that mobilizes its member companies, academics, and SMEs from around the world to reduce the environmental and social impact of displacement patterns in cities, while the preference of employees towards sustainable modes of transport changes.
Digital mobility and data exchange
Digital mobility solutions are essential to achieve the objectives of the Paris Agreement in the transport and mobility sector. Digitalization is critical to improve transportation efficiency, support a truly integrated and seamless Mobility as a Service (MaaS) system, help optimize fleet operations which can also help shift behavior towards less impact modes of transportation, like walking or biking. Digital solutions can create immense shared value, beyond the mobility system and the data generated by the vehicles could create a total revenue of USD $450 – 700 billion by 2030.
WBCSD member companies, through this "Mobility Digitalization and Data" initiative, are guiding and expanding digital solutions along with data sharing between the public and private sectors to reduce carbon emissions, improve safety and accessibility, reduce road congestion and pollution in cities.
Companies are in a unique position to increase access to data sources and develop new sustainable mobility services. By building internal capabilities and changing mindsets, companies can work to build resilient ecosystems and harness the value of digital solutions for decarbonization.
WBCSD vision for transportation and mobility by 2050
WBCSD launched a new version of Vision 2050 in 2021. A roadmap for business action in line with the urgency of facing the challenges we face as a society. There are nine transformation paths, and one of these is Transport and Mobility, which includes not only vehicles, but also services and infrastructure that support transport models for people and goods.
This vision proposes that by 2050 we must have safe, accessible, clean, and efficient transport of people and goods, which requires companies to ensure four main points:
Mobility allows opportunities for all.
Health and safety are essential.
Transportation is clean and efficient.
Transportation systems respect people and communities.
In an interview by Wei Dong Zhou, WBCSD China Director, Thomas Deloison, WBCSD Director of Mobility comments that while transportation and mobility systems are essential to society, the rapid expansion of fossil fuel-based energy in the transportation sector, has created external situations that are no longer sustainable. However, he assures that some transformations are already taking place, such as the electrification of vehicles and technological innovation that is driving different sectors to accelerate action towards a decarbonized, regenerative, and inclusive economy. All this allows governments and regions to reduce emissions and congestion, but also provides better access to transport.
Regarding the most important areas where companies must act now, Deloison states that, to reduce greenhouse gases, companies in the transport sector must also adopt new technologies and business models. These changes represent a deep transformation and require that: "All stakeholders work together to implement solutions that can support deep behavior change on mobility issues," says Deloison.
The Transport and Mobility pathway helps companies understand how and where they can drive the necessary transformations. This route also proposes 10 prioritized business action areas that companies will focus on over the next decade. Learn more here. WBCSD and CECODES, as a Colombian chapter, will continue to promote initiatives with the purpose of continuing to take steps towards sustainable transport and mobility where environmental, social, and economic issues are also managed. Therefore, all companies in Colombia are invited to understand that sustainability is the only way to do business and, in this case, pay special attention to how to strengthen and make their transport and mobility models more efficient, to continue transforming companies to improve lives.